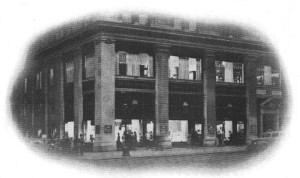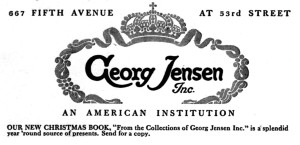 (above) Georg Jensen Inc, 667 Fifth Avenue, New York, NY, (depicted above in 1942)  and the George Jensen Inc crest as it appeared in an advertisement of 1941.
Georg Jensen Inc. sold Janeway ceramics from 1942 through 1949. That store, created and managed by Frederik Lunning, no longer exists. In its time, 1923-1970s, it was a legitimate branch of Georg Jensen in Copenhagen.
All Janeway's ceramic  decoration was carried out in underglaze technique. Tiles were industrial blanks, usually from Wheeling,Inc.  Dinnerwares used Ranchero patterned blanks from W.S.George. All other items were designed and fabricated by Janeway using slipcasting.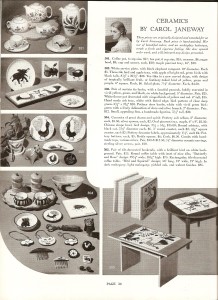 (above)Page 30 of 1945 Georg Jensen Inc mail-order catalog was dedicated to Janeway ceramics.
(above) Page 33 from same Georg Jensen (c)1945 catalog. Round Janeway tiles used in trays, cheeseplatters.