When organizing my parents' estate  in 2001, I came across a  box of neatly packaged  sets of decorated ceramic tiles signed "Janeway" and also a paperback copy of  Carol Janeway's 1950 book  Ceramics and Potterymaking for Everyone.
Fig.i: Dustcover for hardcover edition of Carol Janeway. Potterymaking and Ceramics for Everyone (New York: Tudor Publishing) 1950. 11 x 8-1/2 in. (click on images for larger view)
The author's biographical thumbnail on the backcover mentioned Russia, England, France. Its photograph showed a Botticelli-like blond woman. The book looked to be more than a normal how-to manual. I recalled that during my childhood, a cartoon-like squirrel composed of 4 square ceramic tiles had winked at me from the sidewall of our kitchen counter peninsula.
Fig.ii:  Carol Janeway.  Four tile Squirrel motif. each tile is 4-1/4  x 4-1/4 in.:Carsten and Dena Jenssen kitchen South Egremont, Massachusetts, installed ca.1960, photographed prior to demolition, 2003.
It was shiny and smooth to the touch and the colors shone brightly against the white background of the tiles. It was signed "Janeway" in cursive. My parents had spoken reverently of Carol Janeway's work and I remembered that there had been a connection between Janeway, Georg Jensen Inc. and a Fred Lunning, for whom my family's business had made items in the 1940's. In 1946, my father, Carsten Jenssen, and his brother, Bjørn, moved  from Brooklyn to South Egremont, Massachusetts, started a business to fabricate items for Georg Jensen Inc. and called it Jenssen Brothers.
An art-historian and art-conservator by training, I was intrigued to learn more about this woman and her career. I was also curious to learn more about my family's business which had failed by 1950. I had not discussed Janeway or Jensen's with my parents nor had I sought out Janeway herself in the 1960's when I attended New York University's Washington Square College, one block from her apartment.  Nevertheless, in the age of the Internet, clues and answers came quickly.  I found Janeway's family, her papers, some of her friends and began reconstructing her story. Later I was to meet the many people, usually daughters, who inherited their parents' Janeway ceramics, each person a happy discovery.
One question was posed by repeated internet hits: Was this Carol Janeway, the New York ceramicist, who lived from 1913-1989, also the subject of the large bronze bust entitled "Portrait of Carol Janeway," by Ossip Zadkine and improbably dated 1943 given wartime restrictions on civilian use of metals?
I learned that Zadkine had lived with Janeway in New York during the War. Indeed Janeway was the bust's subject. She owned the original plaster cast and arranged the subsequent castings. I also learned that the biographies of at least four prominent 20th century men are incomplete, either lacking their Janeway chapters in the cases of journalist Walter Duranty, sculptor Ossip Zadkine and Irish poet Oliver St John Gogarty, or deserving an update in the case of her first husband, economist Eliot Janeway.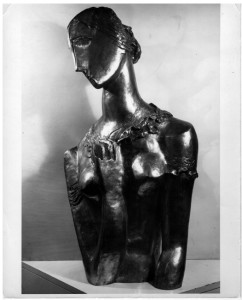 Fig.iii: Ossip Zadkine. "Bust of Carol Janeway." bronze.height 87 cm. 1943 (original clay sculpture and plaster cast). #5 of  6 castings (Collection of Jane and Manuel Greer, New York)
Two questions loomed over her published interviews and career resumes. What was she like and how honest were her claims? Apparently she was a beautiful, educated and charming young woman who loved being the center of attention.  Yet her stories, no matter how implausible to a researcher, have proven accurate. A practiced storyteller, she could mislead an audience by what she'd left out of a story. The story of the Wedgwood plate commission is a good example.
Parts of Carol Janeway's life story appear in three recent books.  Janeway's sister, author Mary Harwood, was the subject of Death in Slow Motion (2003) written by Harwood's daughter Eleanor Cooney who included her aunt Carol in Mary's story. Journalist Michael Janeway included Carol in descriptions of the lives of his parents, economist Eliot Janeway and author Elizabeth Janeway, in  The Fall of the House of Roosevelt (2004). In The Imagery of Chess Revisited exhibition catalog (2004), curator and art historian Larry List provided information about Janeway along with the other contributors to the original chess exhibition of 1944 at the Julian Levy Gallery.
I had wanted to write Janeway's biography but was urged to first research and write this book about Janeway's art as a way of preparing for researching and writing Janeway's life story.  I have included a discussion of the technology of Janeway's ceramic art, since understanding her use and misuse of ceramic technology adds an unusual perspective to the history of her successful career. Her ceramics career was short, strictly from 1942 to 1951, the period she operated a studio, roughly coinciding with her debut at Georg Jensen, Inc. and ended in early retirement due to lead poisoning.
Janeway ceramics and other objects have disappeared from our cultural awareness and the marketplace. Museums which own Janeway ceramics do not feature them and, in cases, her ceramics were effectively deaccessioned. Books on tiles, ceramics and collectibles do not include her works. Her work was not invisible, she signed nearly everything. Her gouache paintings were unpublished and her role in the jewelry collaborations with well-known silversmiths Ed Wiener and Madeleine Turner went largely unrecognized in her lifetime. Many Janeway items located during this research are not yet destined for the market: they are loved by their owners. Although her work was signed, there were no proprietary decals fired on the bases. They could be mistaken for signed amateur efforts, part of the post-War ceramics hobby boom.  Seen in retrospect, her hand-painted work could be lost in that avalanche of mass-produced or printed tiles and wares of the late 1940's and 1950's that depicted Janeway-like flamboyant birds: for example the work of Georg Briard, Sascha Brastoff, Marc Bellaire and veteran ceramist Waylande Gregory.
Her designs were not to everyone's taste or pocketbook. Even a lover of Janeway's work notices that the quality of the output was uneven, something attributable to her apparent unwillingness to cull inferior pieces painted by her workshop.
*   *   *   *   *
Despite her publicity and the books she wrote, it is still difficult to chronicle and evaluate her relatively short career. The most available contemporary sources are a 1945 profile in Life magazine, her 1950 book, Ceramics and Potterymaking for Everyone, her 1952 booklet Ceramic Brushes: their selection, use and care and her obituary in the New York Times.  Other contemporary material includes some 135 articles about Janeway or advertisements of her wares in a range of magazines from McCall's, Ladies Home Journal to lifestyle magazines like House Beautiful and Town & Country.  The extant Georg Jensen Inc. mail-order catalogs of the 1940's document their Janeway offerings from 1942 through 1949.
Archival sources range from her own chaotic contribution to the Archive of American Artists (AAA) now part of the Smithsonian Institute, to newspaper photography morgues now in archives, to inclusions of correspondence in some public and private archives.  Not surprisingly, the FBI kept files on her commencing in the late 1940's and stopping in the early 1950's.
Collector Judith Young-Mallin knew Janeway later in life and acquired her papers from Janeway's estate in 1989, incorporating them into the Young-Mallin Archive, recently transferred to the archives of the Philadelphia Museum of Art. Manny Greer was a close friend from the 1950s. His Greer Gallery represented and developed Janeway's Zadkine collection. The Jane and Manuel Greer Collection preserves some of Janeway's ceramics and archival material. At a yardsale, Jim Riffel bought a random offering of some of Janeway's studio files, including original tile designs, and now has a de facto Janeway archive.
Despite Janeway's intention to write a memoire, one did not materialize. It seems that she did not keep a diary or journal beyond appointment books. The friends of her younger sister, author Mary Harwood, remember being entertained with stories about "crazy Carol" but unfortunately Mary did not write them down either.
Family and friends have provided memories, some papers and souvenirs. They are: her daughter Sister Catherine Kiske, her niece Eleanor Cooney, Manny and Jane Greer, Judith Young-Mallin, Ben Green and Doris Diether;  also Anne and Zoe Ambellan, Larry List , David Taylor, Malcolm Wright, Barbara Pratley and Piers Worth.
*     *     *     *     *
If any Janeway creations in the handbook need be singled out for art historical *importance*, they would be:
-her jewelry co-creations with Ed Wiener and Madeleine Turner;
-her ceramic co-creations with Ossip Zadkine.
-the 12 plates decorated for Wedgwood;
-the Janeway ceramics displayed in the Harry S. Truman White House;
-the furniture designed by Jens Risom for the Lunning Collection, offered by George Jensen Inc.,  and which incorporated                 Janeway tile insets;
-the tiled fireplace surrounds commissioned for the homes of two noted art collectors: Lawrence Bloedel and Peter Rubel.
-her photographic co-creations with Maya Deren
-the five Janeway doorknobs in Marilyn Monroe's estate.